Listing Details
The word 'Ayalkoottam' means neighbourhood. Berwick Ayalkoottam Inc (BAI) was formed in 2008 by 15 families from the Berwick suburb of Melbourne who migrated from Kerala, India. Currently BAI has more than 130 families with 400+ members with new members joining every week, majority of them moving or planning to move into the south-east new estates.
This 'Ayalkoottam' is based on the cultural and family values of Kerala (Southern State in India) and is formed with utmost spirit for mutual help, socialising, bringing the Keralite community of Berwick and neighbouring suburbs together and to keep the younger generation in touch with their culture and traditions. This also provides our youth with an opportunity to display their talents and skills through the different programs we conduct throughout the year.
BAI envisions to offer a forum for its members to build up resilience and confidence and will act as a platform for our community to make valuable contributions to the vibrant Australian multiculturalism. We support our members and community via talent search, social and emotional support, socialisation, job search, small business development, food, fitness and fun. We encourage and support our members to be responsible Australians who will bring pride to the Keralite culture and to successfully integrate to the Australian culture.
Vision
To preserve the social heritage and values of Kerala and promote the Kerala culture through various arts, forms and festivals. To provide maximum opportunity to our members to participate in recreational activities and inspire them to cultivate the spirit of brotherhood and co-operation.
Mission
To bring all Keralites residing in Berwick and neighbouring suburbs to a common platform to preserve and promote rich values and traditions of Kerala.
To plan and organise cultural events and recreational activities aimed at improving cultural, educational and social values among the Keralite community and demonstrate their talents to the member community and to the public.
To impart the richness of Malayalam language, art forms and social heritage to the Australian born children of Keralite descent.
To cultivate love, cooperation, family values, and the greatness of union among its member community.
Gallery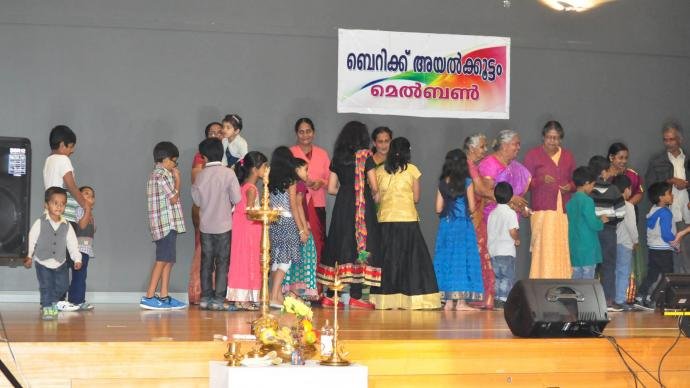 Features
EFTPOS, Credit/Debit Card, PayPal